DESCRIPTION
No S4
Olympia, Archaeological Museum
Bronze embossed shield band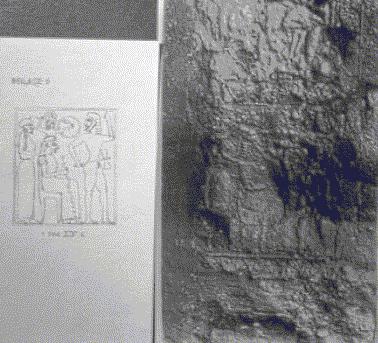 Zeus is represented seated in profile to the right. The
right forearm is extended horizontally forward. The god has
a pointed beard and wears his long hair loose, with a narrow
headband.

Athena is represented emerging from the head of Zeus, the
body facing. She is visible down to the waist. On the left arm
she carries a shield seen from the back, while the right
forearm is extended almost horizontally forward with clenched
fist.

There is one deity on each side of the picture. On the right
stands a god, presumably Hephaistos, the right arm raised. On
the left stands a goddess, the right forearm extended almost
horizontally forward, the hand possibly placed on Zeus' shoulder.
Back to the LIST