DESCRIPTION
No F 03
Cambridge (Mass.), Harvard University, Fogg Museum 1960-326
Fragment of a black-figure amphora
Group E (according to Miss M.Balmuth)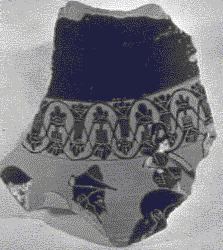 Zeus has been represented, seated, with head in profile to the right.

Athena is represented emerging from the head of Zeus, in a sprinting position.

At the right side has been a goddess, presumably the right arm raised with palm turned outward and extended fingers, and probably one or more other deities. At the left side stand Hermes, identified by the petasos, and a goddess. Probably there have been no other gods at this side of the picture.

Back to the LIST