DESCRIPTION
No C 27
London, British Museum B 424
Black-figure Little-Master cup from Vulci
Phrynos Potter and Painter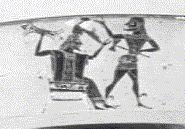 Zeus is seated on a throne. He is represented with head and legs in profile to the right, the body almost facing, to the same scale as Hephaistos who is standing, next to him. The right arm is raised, the hand grasping a thunderbolt. The left arm is raised as well, with palm turned inward (?) and extended fingers. The god has a pointed beard and wears his long hair loose, with a headband. His dress consists of a chiton and a himation which covers the shoulders.

Athena is represented emerging from the head of Zeus, head in profile to the right, the body almost facing. She is visible down to the waist. Her dress presumably consists of a peplos. She carries a shield, bearing the head of an ox with protruding horns, on the left arm. The right arm is raised, with clenched fist.

On the right of the picture stands Hephaistos, the right arm raised, the hand with extended fingers seen on the palm, and the left arm down, with the hand that grasps the axe behind his back.

The throne has rectangular legs slanting outwards, connected by a stretcher and ending in lion's paws, an armrail supported by little columns, and a low back with a swan's head as a decorative finial.

Back to the LIST